MobileMOSFET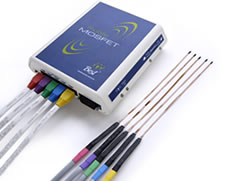 Part # TN-RD-70W
The mobileMOSFET Dose Verification System takes MOSFET dosimetry to the next level.
The mobileMOSFET is a portable, easy-to-use, seamlessly integrated system that simplifies dosimetry and minimizes QA time, making it ideal for a busy radiotherapy center. For example, one Reader Module can be easily shared between multiple treatment rooms...
---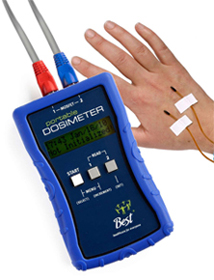 Portable Dosimeter
Part # TN-RD-90
The Portable Dosimeter is an economical, compact, stand-alone system for radiation dose measurement.
Patient dosimetry measurements are available at the touch of a button and display on the integrated LCD, without the need for software or a computer. Additionally, the rechargeable battery powered dosimeter allows easy transportation from room-to-room, or hospital-to-hospital...
---
MOSFET Dosimeters
Arplay Medical offers three different styles of MOSFET dosimeters from Best Medical Canada. With each of these dosimeters there are also options that can be selected...
---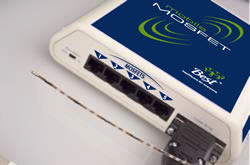 Linear 5ive Array
Part # TN-252LA5 / TN-502LA5
The Linear 5ive MOSFET Array, when used in combination with the mobileMOSFET, is the first and only commercially available combination that allows for the real-time quality assurance of all brachytherapy procedures, without a significant investment in extra time...
---
Calibration Jig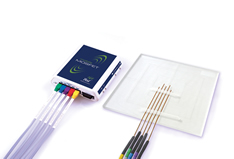 Part # TN-RD-57-30
The MOSFET Calibration Jig is designed for quick and easy MOSFET calibration with a simple set-up configuration. The jig reference lines can be easily aligned with the positioning lasers and linear accelerator light fields for 10 x 10 cm, 20 x 20 cm, and 30 x 30 cm fields. The use of the jig promotes easy and consistent positioning at the beam isocenter and, thereby, reproducible calibrations.
---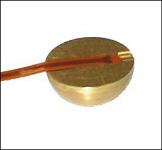 Hemispherical Build-up Caps
Part # TN-RD-56-0.63
MOSFETs are known to be highly accurate dosimeters that offer a wide range of measurement options, as one MOSFET can be used for all energies and modalities. MOSFET dosimeters have only 0.8mm inherent build-up, which allows for flexibility in measuring surface doses as well as doses at Dmax...
---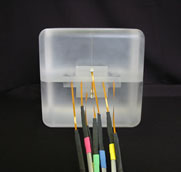 XWU-IMRT Phantoms
Part # TN-RD-52
The XWU-IMRT Phantom (TN-RD-52) is ideal for obtaining quantitative dose measurements for film and MOSFET dosimetry. This 20cm x 20cm block phantom houses film and a minimum of nine MOSFET dosimeters on two orthagonal planes. One of the planes, containing five MOSFET detection points, is the dividing plane of the two sub-phantoms where a film is housed. Five absolute MOSFET dose points on the plane of the film provide dose verification. Easy to use cassettes come with pre-manufactured slots for the dosimeters and allow for greater versatility...